MJ Hibbett & The Validators
Blog
Gigs
Facts
Music
Shop
Links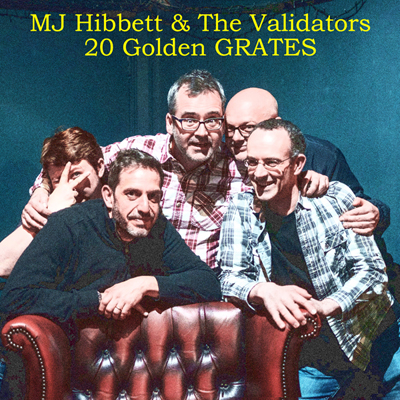 Welcome to webpages of MJ Hibbett, featuring everything that's going on with The Validators, the Fringe shows with Steve, Totally Acoustic, and lots more.
Forthcoming gigs (MJ Hibbett solo shows unless otherwise stated):

Wednesday 20 February 2019: The Globe, Leicester
Friday 22 February 2019: The Roundhouse, Derby - Validators Full Band Set
Thursday 28 February 2019: The Green Room, Sheffield
Thursday 7 March 2019: Gullivers, Manchester
Friday 15 March 2019: New Bristol Brewery, Bristol

See the gigs list for further details

Our Christmas album Christmas Selection Box is available to buy from 3 December, either directly from us or via iTunes.

Our greatest hits album 20 Golden GRATES is OUT NOW as a limited edition CASSETTE with free download code!

The latest news about what we're up to is in our monthly newsletter and almost daily blog.

You can read about all the records we've released and find out how to buy them, if you'd like to.

We have a bandcamp site where you can live stream most of our albums and download tracks.

Catch up with MJ's writing career on his dedicated writing pages.

There's links to our futuristic web presence on twitter and facebook.

And there's loads of pictures of us and an ever increasing pile of videos to see too!

Thanks for coming by, and happy reading!
---