Blog
Gigs
Facts
Music
Shop
Links
Blog: Hibbettfest
I got home from work on Thursday KNACKERED. "I feel like I've been weightlifting or something" I told The Bar In My Bar Bell. Struck with SUDDEN FEAR I went upstairs and discovered the reason for this: i had once again succumbed to my Ongoing Cellulitis Thing i.e. had got ANOTHER infection of "the lower back". I knew the drill for this: headed STRAIGHT for bed, pausing only to cancel the next two evenings' engagements.
I thus spent the rest of the evening and ALL of Friday in bed, being ministered to by The Moisture In My Cool Wet Flannel and drinking WORMWOOD AND YARROW drinks made for me by The Landlady. These drinkes were UTTERLY HORRIBLE but, combined with the nursing care and early action DID seem to work, so much so that by Saturday morning all had cleared up sufficiently to allow me to travel to HIBBETTFEST! HOORAH!
I was thus able to meet Steve at Marylebone station and enjoy the long but DELIGHTFUL journey up to Cradeley Heath, where Mr Ray Dann met us and drove us over to his house. I've been playing HIBBETTFEST in various versions of Ray and/or his parents' back garden every summer for YEARS now and it's always good fun, but I was ESPECIALLY pleased to see that this year there was an ADVERTISING HOARDING outside the house (see below).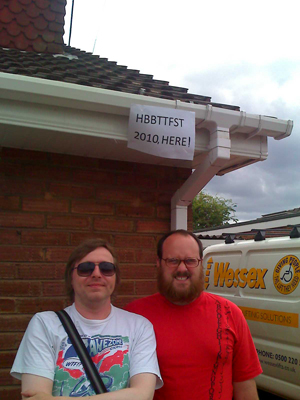 We went through and were gradually joined by a bit of a THRONG of Ray's family and pals. One of the MANY nice things about doing this gig is that I've got to gradually now Ray's Lot, who are a RIGHT lovely bunch of people. The passage of time was VERY noticeable too this year, as there were LOADS of kids there too, so much so that The Dog had to stay inside, which was a shame.
We had some GRUB and most other people had BEER. I had decided not to risk a RELAPSE - which was hard work when there was so much lovely BEER around - and instead stuck to Ray's home made ELDERFLOWER CORDIAL which, COR, was DELICIOUS. I got a bottle to take home with me too, which was MUCH appreciated!
Suitably FED we did the show, which seemed to go pretty well. It's always a bit difficult for people to know what to make of it at that start, and especially so when we're looping around in someone's back garden, but everyone soon got into it and we had a lovely time. We did find out, however, that it is IMPOSSIBLE to hear what's going on when you've got the robot heads on if there's no amplification!
With the job done we hung around a bit before heading into town, where everyone went to the pub. Everyone except for ME - i REALLY didn't want to risk HEALTH and it was a long journey back, so I hugged my goodbyes and set off for an earlier train. An EXCELLENT thing about working these gigs as a double act, however, is that Steve is MORE than able to deputise in such situations and stuck around for a good while to sample some of the MANY excellent beers available in The Wellington.
I arrived home tired but VERY pleased it had gone so well, ready for our LONDON preview the next morning!
posted 5/7/2010 by MJ Hibbett
Comments:
Thanks for bringing the rock Hibbett (and Steve)! Hope you enjoyed it as much as we all did :-)
posted 5/7/2010 by Ray
Did you enjoy it REALLY A LOT? If so: yes, yes we did!
posted 5/7/2010 by MJ Hibbett

An Artists Against Success Presentation