Blog
Gigs
Facts
Music
Shop
Links
Blog: The Validators At The Roundhouse
Friday afternoon saw me heading back to the Midlands, for LO! The Validators were playing their first gig of the year, and we were playing THE ROUNDHOUSE!
All right, it was the Derby Roundhouse rather than the slightly more famous London one, but still, it was Quite A Big Deal for us. We were booked to play at the Derby Winter Beer Festival, a gig which I was understandably rather excited about playing - I have BEEN to many beer festivals, but actually PLAYING one has long been a dream!
I thus got checked into my nearby hotel (I suspected I would not be wanting to do any travelling after this particular gig!) and then went to meet Mr FA Machine outside the station before heading over the bridge to the Roundhouse, where we found a GIGANTIC queue. Luckily Frankie knew what he was up to, and we found a Security Guard who waved us through the VIP entrance. Top Beer Festival Tip: it's much easier to persuade people you are "In The Band" when you have a guitar to wave at them.
We had a drink and a wander around, and I must admit I started to feel a bit nervous, as there were LOADS of people around. The people themselves looked, to quote Tim later, "like a Fall gig" (who'd've thought?) but I was a bit trepidatious about how they'd react to us bellowing at them. I was thus quite relieved when we found our stage, in a marquee attached to the main building, where people could CHOOSE to visit or not.
The rest of The Validators arrived in The Tigermobile, and Emma foolishly asked for my advice on How Beer Festivals Work - I was VERY happy to give it! We then went back to the stage area and met the other band. Tim had been in contact with their drummer, and it turned out that they had a LOT in common. Look, for instance, at this delightful picture of the two of them!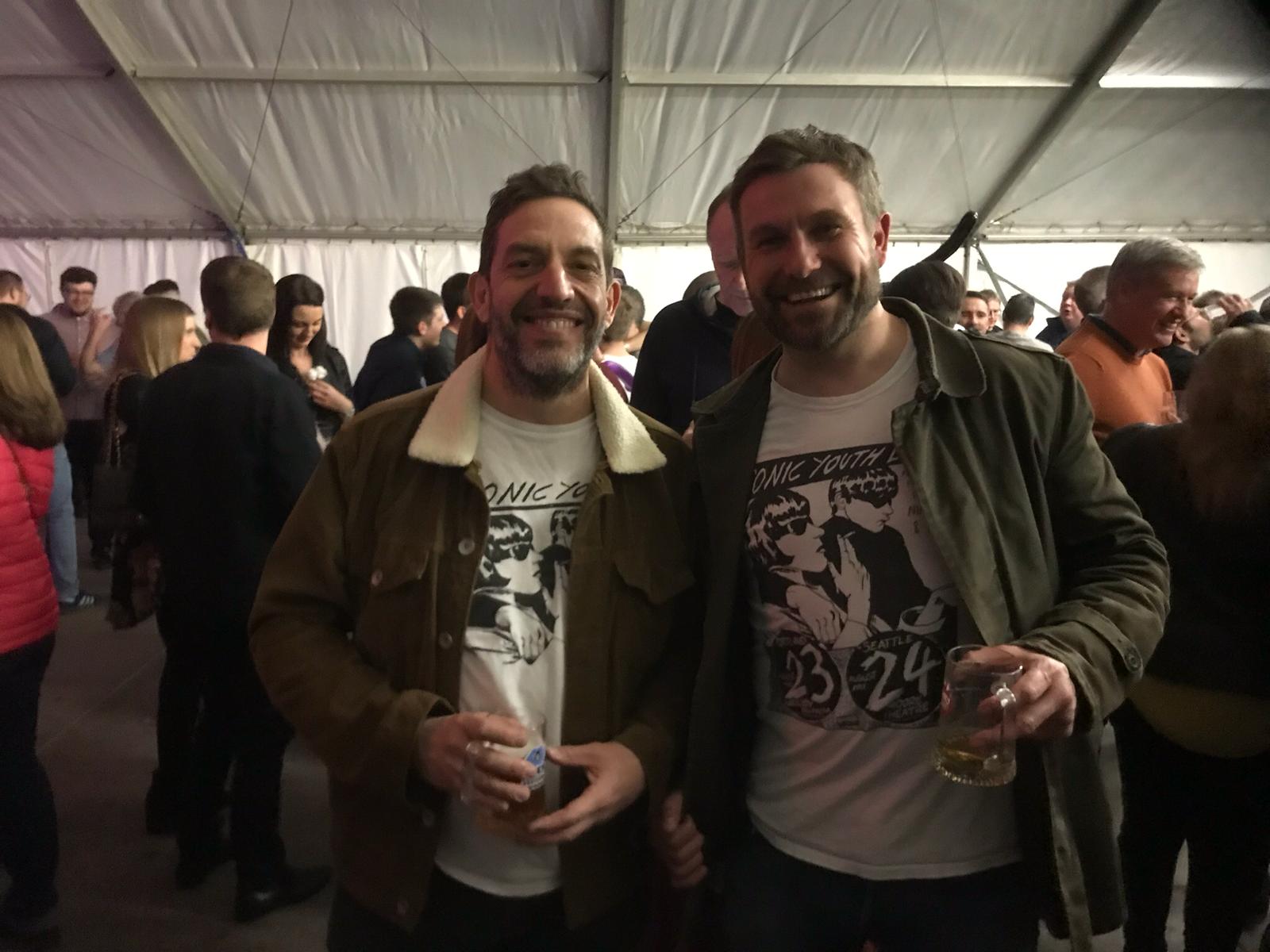 Kevin, their drummer, had ALSO been in a Band You Read About In The Melody Maker back in the day - Adorable! Tim INSISTED that he had not been the first to mention being in a band before, and of COURSE we all believed him, and it was a delight to see the two of them together. Also, should Tim ever be kidnapped mid-tour, we know where to get an almost identical replacement!
We did our soundcheck (which sounded LOUD), bumped into various PALS, and then wended our way back to the stage to do THIS:
It was A BIT OF A WEIRD ONE! It was a set of HITS, The sound was GRATE, and we sounded, if I may so so, PRETTY FLIPPING GOOD with shockingly few errors, and the audience down the front BOTH liked it, but everybody else in the marquee pretty much ignored the whole thing! It felt STRANGE - we'd BLAST through a song VERY loudly and then the aforesaid two chums at the front would clap... and that would be about it! I am a VETERAN of beer festivals and very aware of the fact that people are there for the BEER and not the acts, but it did feel odd to be on the other side of things!
Still, it was good fun, and what followed was MORE good fun as we staggered around in various combinations of Validators trying out all sorts of BEERS and having a bit of a yack. We also watched the other band, who were a (really good) indie covers band, doing a broad selection of songs that went down A LOT better than ours had! I think their lead singer must have been a bit of a Liam Gallagher fan though, as surely there is no other reason to cover a Liam Gallagher solo single? Other than that though I doff my ROCK hat to them, for LO! they got the whole tent going in a way we certainly did not!
Eventually time was called and we were forced to depart, thus concluding what turns out to have been our first gig in Derby in FOURTEEN YEARS! Fear not, Derby, you will not have so long to wait for our return, as we're hoping to be back in May... for another Beer Festival!
posted 25/2/2019 by MJ Hibbett
Comments:

An Artists Against Success Presentation